Delight Tart Tatin Set
Regular price Price Reduced From: $0.00 $285.00 On sale
Induction, microwave, freezer, dishwasher, and oven safe up to 500F. Dimensions: 12.8 x 11.5 x 3.4" Capacity: 2.3 QT.
Our 'Delight' Tarte Tatin Set allows you to easily make delicious Tarte Tatin—from classical apple recipes to innovative versions with vegetables or exotic fruit. - Simply make the caramel on the hob, directly in the dish, add the apples cut into quarters, lay the pastry on top and put in the oven to bake. - Once cooked, place the serving dish over the baking dish and flip the set over to turn out the Tatin. Serve directly; the outer rim retains the liquid caramel with no spill. - The innovative "Delight" ceramic diffuses the heat evenly over the surface of the baking dish, making it easy to prepare caramel on all types of heat sources—including induction. - The naturally non-stick glaze makes the set easy to clean (dishwasher proof) and maintain.
Case Pack: – All products sold as singles. Retail price reflects a single unit price.
From freezer...
to microwave or oven.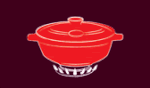 On the stovetop. (except the Baking Stone & Pizza Stone)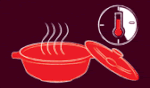 Slow cooking, keeps hot.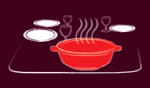 Safe for induction stovetops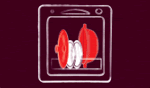 Easy to clean, dishwasher safe.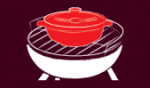 On the barbeque.
10-Year Guarantee
We are proud to offer products made from very high quality ceramic, which pass very rigorous quality control by our team. We are therefore pleased to offer a 10 year guarantee on all Emile Henry products. Our warranty covers any production fault or quality problem with the product when used in a normal domestic environment, and respecting the care and use instructions. Any variation in the finish of the item is due to the handiwork carried out in our workshops and does not alter in any way the culinary qualities of our dishes. Warranty not valid for commercial and foodservice use.
Delight by Emile Henry
Made from state-of-the-art ceramic and is lightweight and highly responsive. In addition, it spreads heat evenly to gently simmer and reveal the most delicate flavors. The clean lines and its generous matte black base ensure an elegant table service. With its natural non-stick, it is easy to maintain and is dishwasher safe. Handcrafted and controlled in our workshops in Burgundy.
---