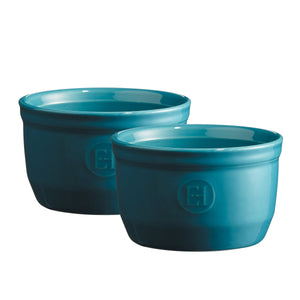 Ramekin (Set of 2) (EH Online Exclusive)
,
Mediterranean Blue
Regular price Price Reduced From: $25.00 $19.99 On sale
Use the right ramekin for the right recipe! For small portions, the size and volume are particularly important so that the recipe is perfectly cooked.
Ideal for many types of recipes for one or two, the Emile Henry ramekin is perfect for coddled eggs, mini cobblers, chicken pot pie, individual gratins, small soufflés, classic flan and Pot de Crème. The ingredients are cooked evenly, without drying out, thanks to our HR ceramic®. Our highly resistant glaze protects your ramekin against scratches and chips, and it can be put in the dishwasher without losing its colour. All Emile Henry products are made in France and offer a ten year guarantee.
10-Year Guarantee
We are proud to offer products made from very high quality ceramic, which pass very rigorous quality control by our team. We are therefore pleased to offer a 10 year guarantee on all Emile Henry products. Our warranty covers any production fault or quality problem with the product when used in a normal domestic environment, and respecting the care and use instructions. Any variation in the finish of the item is due to the handiwork carried out in our workshops and does not alter in any way the culinary qualities of our dishes. Warranty not valid for commercial and foodservice use.
---