Square Pizza Stone
,
Burgundy
$0.00 Regular price $70.00 On sale
Ideal for pizza, bread and grilling. Made of exceptionally durable Burgundian clay, yet is much lighter than a standard pizza stone. Withstands extremely high heat, distributing the temperature quickly
and evenly. Oven, grill, broiler, freezer and dishwasher safe. Made in France.
14 in x 1.25 in.
Case Pack: – All products sold as singles. Retail price reflects a single unit price.
10-Year Guarantee
We are proud to offer products made from very high quality ceramic, which pass very rigorous quality control by our team. We are therefore pleased to offer a 10 year guarantee on all Emile Henry products. Our warranty covers any production fault or quality problem with the product when used in a normal domestic environment, and respecting the care and use instructions. Any variation in the finish of the item is due to the handiwork carried out in our workshops and does not alter in any way the culinary qualities of our dishes. Warranty not valid for commercial and foodservice use.
Customer Reviews
Write a Review
Ask a Question
06/25/2021
Marjorie G.

United States
The BEST Pizza Stone
Evenly distributed heat, lovely enough to use for serving, and easiest stone to clean we've found!!
Does the job perfectly!
I used it a few times already to bake pizza and manakish a lebanese goodness dough pie + zaatar, cheese or meat. Bottom line, they look professionally made, as in a brick oven! And it is made in France.. a rarity these days! I highly recommend this product.
Great customer service and fantastic products. Love my Pizza Stone... roast veggies quite well also.
I had my stone for around eight years. I used it dozens of times to make pizza, often to bake bread, both in my gas oven as well as on my Traeger Grill. I recently had an issue and somehow the stone broke... I was shocked. I reached out to the customer service department and didn't get a response because their emails were going into my spam folder.... I just thought they were ignoring me, but then I received a phone call from them and was able to explain what happened and asked about temperature ranges etc... I sent them photos of the front and back so we could figure out what happened. They gave proper use instructions and I thanked them, thinking that was it. Today, out of the blue, I received a new Pizza Stone via UPS! I had not asked for a new one, had not registered the old one, and truly did not expect to get one. The most impressive part was that they kept trying to reach me until we were able to talk, I didn't have to chase them down, they were actively looking for me to make it right.. and they sure did. Thank you Emile Henry... Great A+ Customer Service.
Flame® Barbeque Cookware by Emile Henry
Extremely resistant to heat, our BBQ ceramic can reach 500°C/930°F. It heats as much as cast iron, but diffuses the heat more gently so the ingredients do not burn as quickly. Thanks to its solid surface, our BBQ products do not let the fat drip onto the hot embers, creating toxic fumes.
The result is slow, healthy cooking without any additional fat, which preserves the nutritional qualities and vitamins in the food.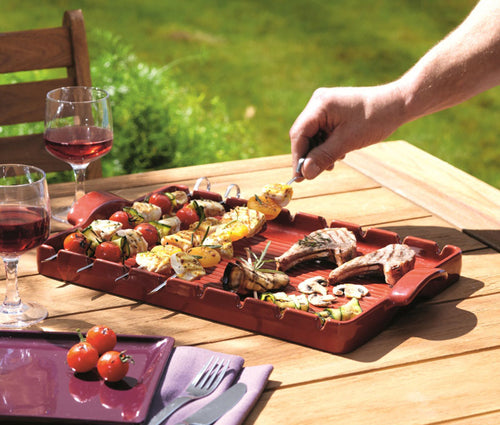 ---