Maestro Pizza Stone
,
Créme
Regular price Price Reduced From: $150.00 On sale
The secret to a delicious pizza? A dough seared on a high heat. Similar to professional pizza stones in its thickness and reactivity, the Maestro Pizza Stone creates a powerful and uniform heat for faster and homogeneous cooking of homemade pizzas.
 
The result: a crisp outer crust & a perfectly moist center!

Its rectangular shape and generous dimensions (13 x 17 in) make it a versatile tool for cooking quiches, pizzas, puff pastries, and more, in family proportions. Its 2 raised handles guarantee safe removal from the oven and service at the table.

Compatible for cooking in the oven as well as on a gas or charcoal grills with the lid closed during cooking.
Ceramic

Weight: 10 lbs.

Dimensions: L 17" x W 13" x H 1.4"

Portions: 6-8
Hand crafted in France 

Guarantee for 10 years under warranty



10-Year Guarantee
We are proud to offer products made from very high quality ceramic, which pass very rigorous quality control by our team. We are therefore pleased to offer a 10 year guarantee on all Emile Henry products. Our warranty covers any production fault or quality problem with the product when used in a normal domestic environment, and respecting the care and use instructions. Any variation in the finish of the item is due to the handiwork carried out in our workshops and does not alter in any way the culinary qualities of our dishes. Warranty not valid for commercial and foodservice use.
Flame® Barbeque Cookware by Emile Henry
Extremely resistant to heat, our BBQ ceramic can reach 500°C/930°F. It heats as much as cast iron, but diffuses the heat more gently so the ingredients do not burn as quickly. Thanks to its solid surface, our BBQ products do not let the fat drip onto the hot embers, creating toxic fumes.
The result is slow, healthy cooking without any additional fat, which preserves the nutritional qualities and vitamins in the food.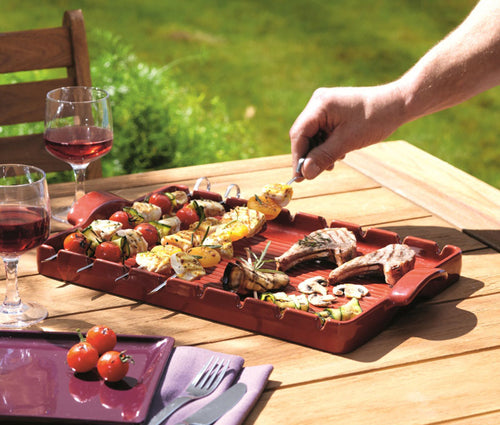 ---