Detroit Pizza / Focaccia bread
,
Burgundy
$0.00 Regular price $100.00 On sale
The Emile Henry Detroit Style Pizza pan creates this infamous Detroit style pizza in a snap.  Detroit-style pizza is a rectangular pizza with a thick crust that is crispy and chewy. It is traditionally topped with Wisconsin brick cheese that goes all the way to the edges and caramelizes against the high-sided heavyweight rectangular pan.  This 16-inch x 12.5-inch French ceramic pan creates the perfect pizza crust.  The handles on the pan make it easy to remove from the oven and serve directly on the table. Scratch resistant, you can use a pizza cutter or knife to cut directly on the Detroit Style Pizza pan without damaging the surface or you can slide the pizza off onto a cutting board.  The glazed surface is easy to clean and is dishwasher safe.
From freezer...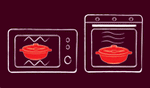 to microwave or oven.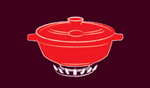 On the stovetop. (except the Baking Stone & Pizza Stone)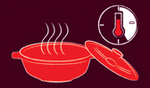 Slow cooking, keeps hot.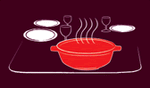 Attractive presentation.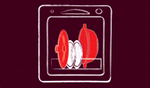 Easy to clean, dishwasher safe.
On the barbeque.
Natural Products: We attach great importance to the fact that our stewpots, tagines and other cooking utensils are produced using raw materials taken directly from the surrounding countryside: non-treated clay, sand, filtered water and mineral oxides for the colorful glazes. This allows you to cook in total safety. There is no lead, cadmium or nickel in our products, which means that there is no risk of contamination while cooking. Emile Henry's Flame® cookware is made in Marcigny France from high fired Burgundy clay.
Delicate Cooking: Contrary to metallic cooking utensils, our Flame® ceramic is an excellent heat diffuser (not conductor). Cooking is therefore gentle: the food does not burn and all the flavors are kept in tact. Very high temperatures are therefore unnecessary and we advise you to always start on a low heat. This even heat distribution means that the ingredients do not burn during cooking and conserve all their vitamins.
Healthy Cooking: The absence of metal in our products allows you to cook without oxidizing the food, thus retaining all the vitamins and nutritive qualities present in the ingredients. What's more, our highly resistant glazes allow cooking with a minimal amount of fat. Finally, our non-porous ceramic avoids the absorption of smells or water and makes it easy to clean. Discover the versatility of our Flame® products.
Resistance Against Mechanical Shocks: During everyday use, there are many opportunities to bang a dish or a set of plates. Particularly resistant to shocks, our ceramic is even used in restaurants!
Resistance Against Temperature Changes: A dish or stewpot should be able to withstand wide variations in temperature. Our ceramics allow our products to be taken directly from the freezer to the hot oven (+500°C/930°F).
Resistance Against Fading Colors: Heat, the dishwasher or sharp instruments will all have an aging effect on a product. Our glazes are particularly resistant to the dishwasher and the most aggressive of detergents.
10-Year Guarantee
We are proud to offer products made from very high quality ceramic, which pass very rigorous quality control by our team. We are therefore pleased to offer a 10 year guarantee on all Emile Henry products. Our warranty covers any production fault or quality problem with the product when used in a normal domestic environment, and respecting the care and use instructions. Any variation in the finish of the item is due to the handiwork carried out in our workshops and does not alter in any way the culinary qualities of our dishes. Warranty not valid for commercial and foodservice use.
Healthy cooking with Flame® ceramic from Emile Henry

Discover the taste of healthy cooking, lovingly prepared in an entirely natural cooking utensil. This is the role of Emile Henry's Flame® ceramic. Created for use directly on the heat (gas, electricity or halogen*),(except the Baking Stone & Pizza Stone), our Flame® products can also be used in the oven or microwave.
Our products can be used at a temperature of 500°C/930°F and are highly resistant to thermal shocks: you can take your dish from the freezer (-20°C/0°F) and put it directly in a hot oven. What's more, its capacity to retain the heat means that the food stays hot for longer on the table.
Specialized in cooking simmered meat, fish and vegetables, our Flame® ceramic also has its role to play in preparing desserts. Thanks to its even heat diffusion, famous chefs recommend it for making caramel quickly and easily!
* with an induction disk for induction stove tops.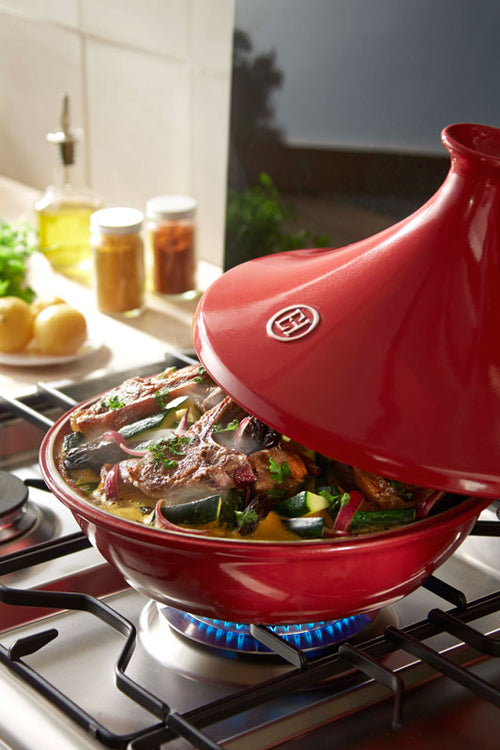 ---